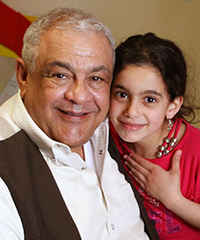 Our Story and History
Instability at home – or not having a home at all – creates tremendous challenges for children. This heartbreak is a shared sorrow for the Arab world, and is one reason which drove the creation of Dar Ilham & Yusuf Alghanim - DIYA – an NGO founded in 2003 by Sir Kutayba Yusuf Alghanim, the son of Ilham and Yusuf Alghanim. The Alghanim family history in philanthropy goes back generations, starting in their home country of Kuwait and extending to the Arab world. Their philosophy is and has always been to lend a helping hand to families in need.
Situated on a family estate that once belonged to Kutayba's father, Yusuf Alghanim, the location was once the private residence of the family, where they spent countless happy days in Souk El Ghareb – Lebanon. After the Lebanese civil war, Sir Kutayba Alghanim renovated their family residence and repurposed it to establish DIYA as a home for children in need. The estate was divided into spacious apartments, allowing children in need to live together as families. At DIYA, boys and girls grow and learn together as siblings, not strangers, sharing responsibilities as well as the joys and sorrows that are a part of everyday living.